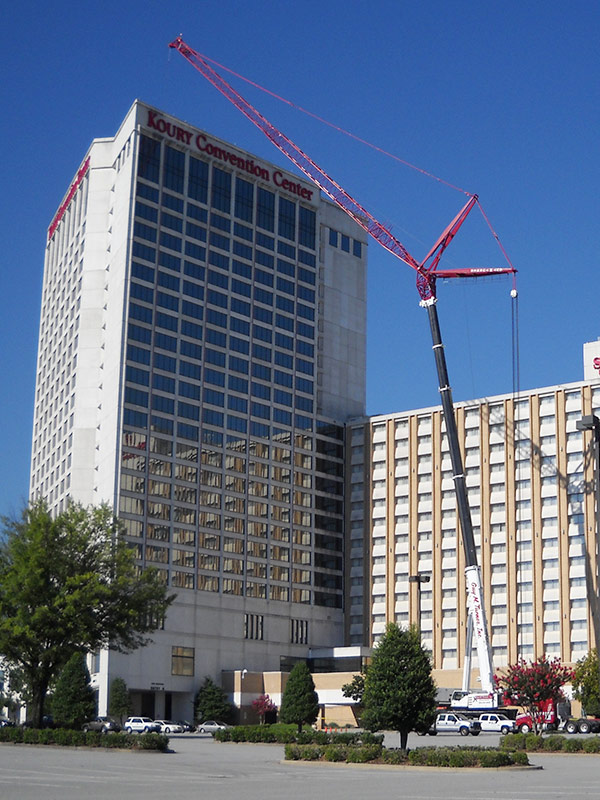 The latest equipment, available from many locations.
Guy M. Turner offers crane rentals in NC, SC, and VA from its locations in Greensboro, Raleigh/Durham, Burlington, and Winston-Salem, NC. We also offer crane rentals in VA from our Martinsville, VA location. We provide a full range of services with our crane rentals as part of our turnkey projects throughout the Southeast.
A modern fleet, with cranes for every application.
Our fleet of all-terrain, hydraulic, lattice, rough terrain, boom trucks, and carry deck cranes have capacities from 8.5 to 500 tons, and up to 493 feet of boom. Our fleet of crawler cranes has capacities from 250 to 330 tons. Our crane rentals are offered on an hourly, weekly, or monthly basis. Our fleet provides the flexibility to complete difficult and complex lifting tasks in a minimum amount of time. All this, combined with our 3D Lift Plan software and our experienced and professional estimators and operators makes us your crane rentals solution.
Top-of-the-line equipment, expert operators, and unparalleled experience.
We've been in the crane service business for a long time. We have successfully served just about every industry: HVAC, cellular, construction, power and more. We're on top of every element. For projects that need it, our certified experts can even develop 3D lift plans.
Crane Equipment
As a longstanding industry leader, Guy M. Turner has built a vast fleet of company-owned and maintained cranes, always adding the latest equipment from the most respected manufacturers. Each model and configuration is available when you need it, by itself or with a certified operator. It's yours for a day or long-term—whatever suits you. With locations throughout the east, mobilization costs are minimized.